Climate risk, food security and adaptation in Norwegian agriculture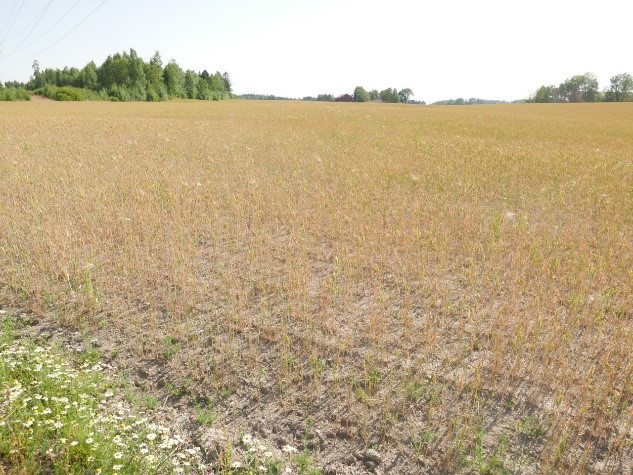 Østlandet og Sørlandet er hardest rammet av tørken. Foto: John Olav Oldertrøen
The summer 2018 has given new heat records, extreme weather and long drought periods. Crop production, both cereals and especially forage production are seriously affected in several parts of Norway. Extreme weather with wet conditions has occurred several times the latest years. It is challenging for agriculture to adapt to extreme conditions. NIBIO Climate Forum invite to a seminar about extreme weather. Research Director Rob Bailey Chatham House, UK will give a presentation of: Extreme weather and the resilience of the Global Food System. The seminar will also include presentations of adaptation for Norwegian Agriculture.
Registration form
Information
Place
Vitenparken, Campus Ås, Fredrik A. Dahls vei 8, Ås
Time
Friday August 24th 2018 at 09:00 to 14:30
Deadline
Thursday August 23rd 2018 at 14:00
Activity is finished and you can no longer register.
Chairman: Per Stålnacke, Research Director NIBIO

09.00

Coffee

09.15

Welcome

by Ola Hedstein, Norwegian Agricultural Cooperatives

NIBIO role and ambition for Agriculture – Climate

by Nils Vagstad, Director NIBIO

09.30

Agriculture, food security, adaptation to climate change- in Norwegian Climate policy

by Arne Bardalen, Special Advisor, NIBIO

09.50

Extreme weather and the resilience of the Global Food System

by Research Director Rob Bailey, Chatham House, UK

10.50

Break

11.10

Climate change and extreme weather, challenges for farmers

by Johanne Sæther Houge, Farmers Union

11.30

Norwegian agricultural landscapes- adaptation strategies

by Lillian Øygarden, NIBIO

12.00

Lunch

12.45

Cereal production in Norway- adaptation to wet and drought conditions

by Einar Strand, NIBIO

13.05

Forage production in Norway- adaptation to wet and drought conditions

by Ievina Sturite, NIBIO

13.25

Economic effects of the 2018 drought on Norwegian agriculture: A preliminary assessment

by Klaus Mittenzwei, NIBIO

13.45

Effects of extreme drought on forest trees

by Isabella Børja, NIBIO

14.05

Discussion, summary. Need of new research priorities?

by Research Director Per Stålnacke, NIBIO

14.30
Contact
Please do not hesitate to contact us if you have any questions.
Rob Bailey became Director of the Energy, Environment and Resources Department at Chatham House in 2014, having joined as Senior Research Fellow in 2011 from Oxfam GB where he was responsible for policy on food security, trade, agriculture and climate change. Prior to this he worked at the advisory firm Oliver Wyman, where his clients included many of the world's leading banking, insurance and investment companies. His publications have covered a range of topics including food security, conflict and resources, low-carbon development, bioenergy and resource governance. He was named one of the 2011 DEVEX 40-under-40 leading thinkers on international development for his work on sustainability. He holds degrees from the University of Cambridge and the London School of Economics. He is invited to Norway to give presentations based on his reports "Extreme weather and resilience of the global food system" and "Chokepoints and Vulnerabilities in Global Food Trade". https://www.chathamhouse.org/expert/rob-bailey

Arne Bardalen is Special Adviser in NIBIO. He is previous director of Norwegian Institute of Land Inventory and the Norwegian Forest and landscape institute. He has been member of several expert panels and committees covering issues like climate change and cross sectorial risk assessments, assessment of Norwegian climate policy for agricultural sector, strategies for the Norwegian forest sector, governmental panels on strategies for protection of agricultural land and assessment of future turnover potential in Norwegian bioeconomy. His presentation will focus on adaptation related to Norwegian Climate Policy.

Johanne Sæther Houge is Adviser for Climate and Renewable Resources in Norwegian Farmers Union. She has long time experience from work in the Environmental movement. She has for several years been   a representative for the sivil society in the Norwegian negotiation Delegation to FNs Climate negotiation Delegation. She is now working as adviser for climate in Norwegian Farmers Union. Her presentation will focus onn the challenges and consequenses extreme weather give for practical farming.

Einar Strand has long time experience as advisor and daily leader of Romerike Agricultural Advisory Service. Since 2007 he is holding a part time position as coordinator for cereal production in Norwegian Agricultural Extension Service and as senior adviser i department of « Grain and Forage Seed Agronomy» in NIBIO. He has been member of and secretary for the expert group appointed by the Ministry for Agriculture and Food: «Increased Norwegian cereal production» in 2013- 2014. His experience includes most aspects of cereal production and specially practicale management methods.His presentation will focus on extreme weather and challenges for cereal production.
Ievina Sturite is researcher in department of «Grassland anf Livestock» in NIBIO. Her expertice includes carbon storage in grasslands, biological nitrogen fixation and nitrogen cycling in clover rich swards including long northern winter. Her presentation will focus on extreme weather and challenges for forage production.

Isabella Børja is a Senior Research Scientist in department " Forest Health " in NIBIO. She has studied biology at University of Oslo, with specialization on mycology and have a PhD at NMBU, Ås. Expertise on forest pathology, finding causes of diseases and disorders in forest trees. Activities include understanding of below-ground processes in forests that contribute to carbon dynamics/storage, such as root biomass, root respiration and decomposition. She is interested in mycorrhiza, symbiotic association among tree roots and soil fungi, and its role in tree vitality and carbon storage in forest soils. Her presentation will be about how drought affect trees- and how trees survive or die.  

Klaus Mittenzwei is an agricultural economist in department of "Economics and Society" in NIBIO. He received his PhD from the Norwegian University of Life Sciences. His research areas include national and international agricultural policies, climate change, structural change in agriculture, and quantitative tools for ex-ante policy analysis. His presentation has the title: Economic effects of the 2018 drought on Norwegian agriculture: A preliminary assessment. Keywords about presentation: Short-term and long-term effects, adaptation, food security, policy challenges.


Lillian Øygarden is a researcher in Department « Soil and Land use«. She has long experience in working with environmental monitoring of agricultural catchments, especially with runoff, erosion and nutrient losses. She has been coordinator of several projects on agricultural management methods and challenges for increased production. She has been coordinating NIBIO involvement in different committies related to agriculture, climate and reduction of greeenhouse emissions. She is currently cooordinator of NIBIO Climate Forum. Her presentation will give an overview of adaptation strategies in agricultural landscapes.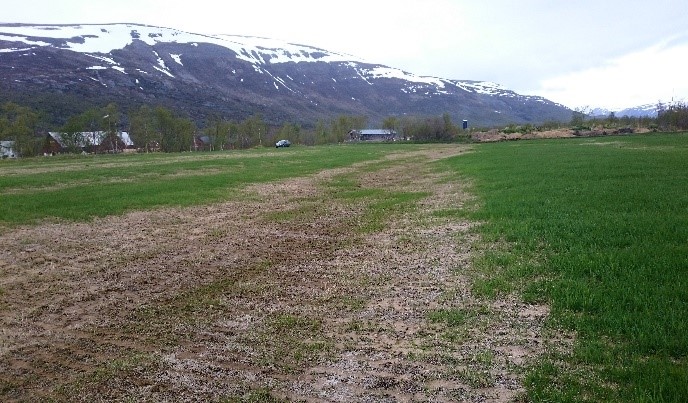 Vær i høst og vinterperioden har stor betydning for vinterherdighet og overlevelse av planter gjennom vinteren. Foto Marit Jørgensen