Welcome to our NorBaRAG meeting from the 8th to the 9th of March 2018!
Welcome to the 10th annual meeting of the Nordic Baltic Resistance Action Group, a special interest community combining research and company interests, expertise and capacities to reduce the risk for pesticide resistance in agriculture. This meeting will be held at Olavgaard, Skjetten in Norway from the 8th to the 9th of March, 2018.
We are offering a conference package for 4000NOKs including, a room for two nights, breakfast, lunch, dinner and meeting facilities. This also includes 500NOK registration fee to cover organization of the meeting and the design of our new NorBaRAG webpage.
Our meeting will be divided in a general session during the morning and subgroup specific sessions in the afternoon. The subgroups for herbicides, insecticides and fungicides will deal with issues related to the specific groups of pesticides, such as test methodologies, mapping resistance in the Nordic-Baltic region and focus on strategies to reduce the risk of resistance development.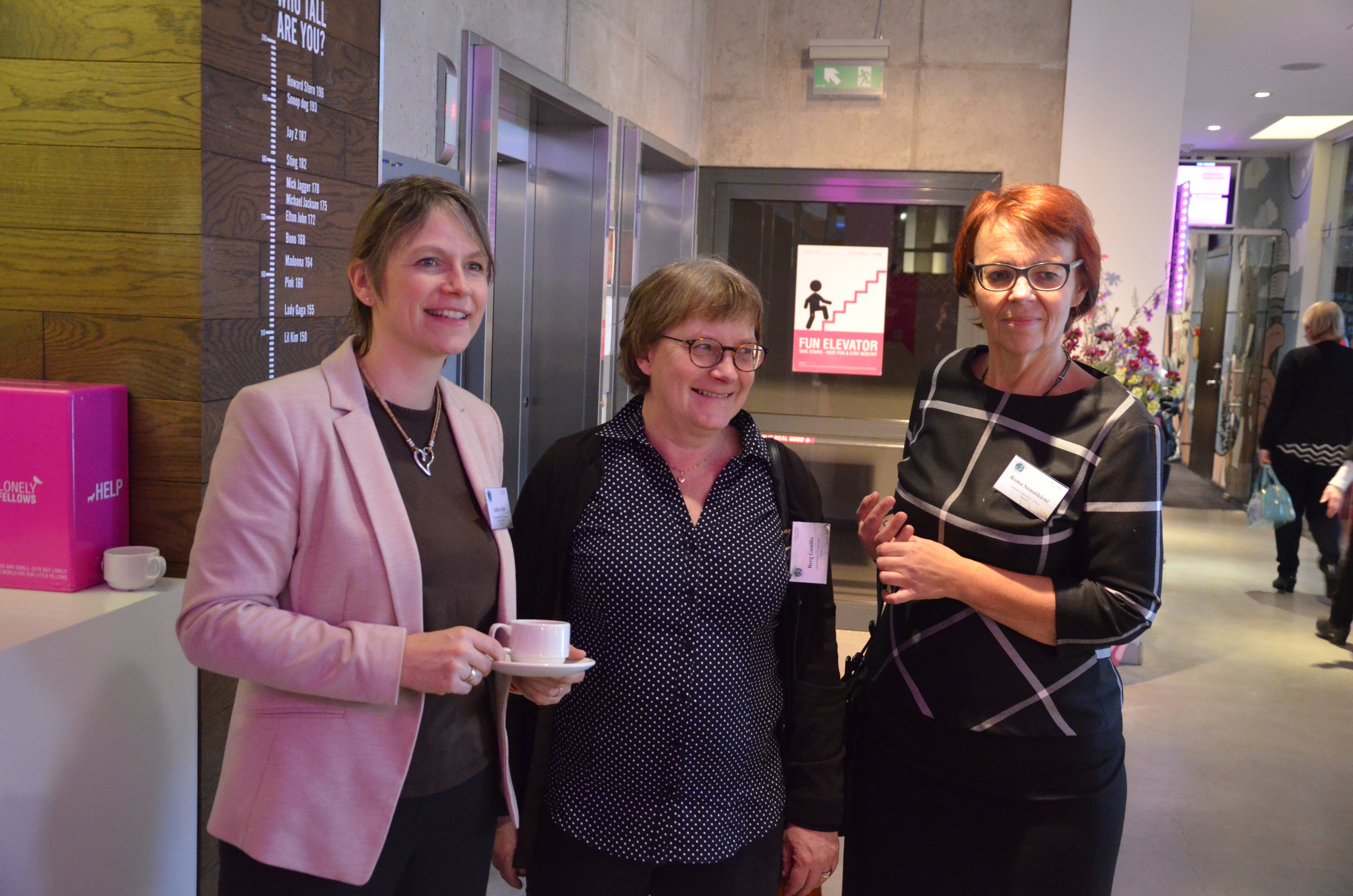 Andrea Ficke, Gunnila Berg and Roma Semaskiene at our last NorBaRAG meeting in Vilnius
Welcome to our NorBaRAG meeting 2018!
Registration form
Information
Place
Quality Hotel Olavsgaard
Time
From Thursday March 8th 2018 at 10:00
To Friday March 9th 2018 at 16:00
Deadline
Thursday March 1st 2018 at 22:00
Product
Accomondation from 8th to 9th March at the hotel, breakfast, lunch and one dinner, conference fees, NOK 3000,-
Preliminary Program of the 10th NorBaRAG meeting 8th - 9th March 2018
Thursday 8th March

10.00 - 10.15

Opening of the meeing, coffee, tea, snacks and welcome (Andrea)

10.15 - 10.45

Invited speaker (Neil Paveley, Rothamsted Research, confirmed) on the mechanisms of fungicide resistance and actions to reduce the risk for fungicide resistance development on the field level )

10.45 - 11.15

Invited speaker (Paul Neve, Rothamsted Research, confirmed): Proactive and reactive approaches to managing herbicide resistance risks in global cropping systems

11.15 - 11.45

Invited speaker (Udo Heimbach, Julius Kuehn Institute, confirmed) on insecticide resistance, insights and advances on the scientific and field level

11.45 - 12.15

Panel discussion with the three speakers: What will we recommend now?

Practical aspects and translational research for extension

12.15 - 13.15

Lunch at the Hotel, pictures taken of the group

13.15 - 15.30

Separate meetings for herbicide, insecticide and fungicide subgroups

Subcommittee chair will send out agenda before the meeting, everyone is encouraged to submit a short talk on the situation in their country/area

15.30 - 16.00

Coffee break

16.00 - 17.30

Subcommittee meetings continue, committee chairs summarize the main points

18.30

Dinner

Friday 9th March

09.00 - 09.05

Opening of the meeting (Andrea)

09.05 - 09.15

Summary of activities from subcommittee Herbicides (Ona)

09.15 - 09.30

Summary of activities from subcommittee Fungicides (Thies)

09.30 - 09.40

Summary of activities from subcommittee Insecticides (Jarmo?)

09.40 - 10.00

Discussion of activities in 2017 and plans for 2018. More common field trials?

10.00 - 10.30

Coffee break

10.30

Presentation of national and international projects to reduce the risk of pesticide resistance: ResiSTOPP (Gunn Mari), etc

Where to get funding, how can we support each other? What is still missing? How will we continue?

11.45

Closing of the meeting, announcement of the NORBARAG meeting in 2019 (Andrea)

12.00

Lunch
Contact
For further information contact Andrea Ficke; andrea.ficke@nibio.no
More information about the conferance hotel Olavsgaard hotel
Public Transport
Bus
As the closest neighbor to the hotel, the bus stop is Olavsgaard. The airport bus express goes non-stop to and from Oslo Airport 4 times an hour. Many of the country's express buses frequent the bus terminal. From here there are also continuous departures to and from Oslo and the local area.

The airport bus expresses FB1 and FB6 depart from the bus stop outside the arrivals hall at Gardermoen. FB1 has departed 07 and 37 minutes over each hour and FB6 has departed 15 minutes over each hour. From Olavsgaard to Gardermoen, buses run 05, 17 and 35 minutes every hour. For all times, see www.norway.com

Taxi
There is a separate taxi stop right outside the hotel. The hotel has its own fixed-price agreement with Nedre Romerike Taxi for the Gardermoen-Olavsgaard / Oslo City Center-Olavsgaard.


Train
Nearest train station is Lillestrøm. There is a local bus between the station and the hotel, about a 10 minute ride.