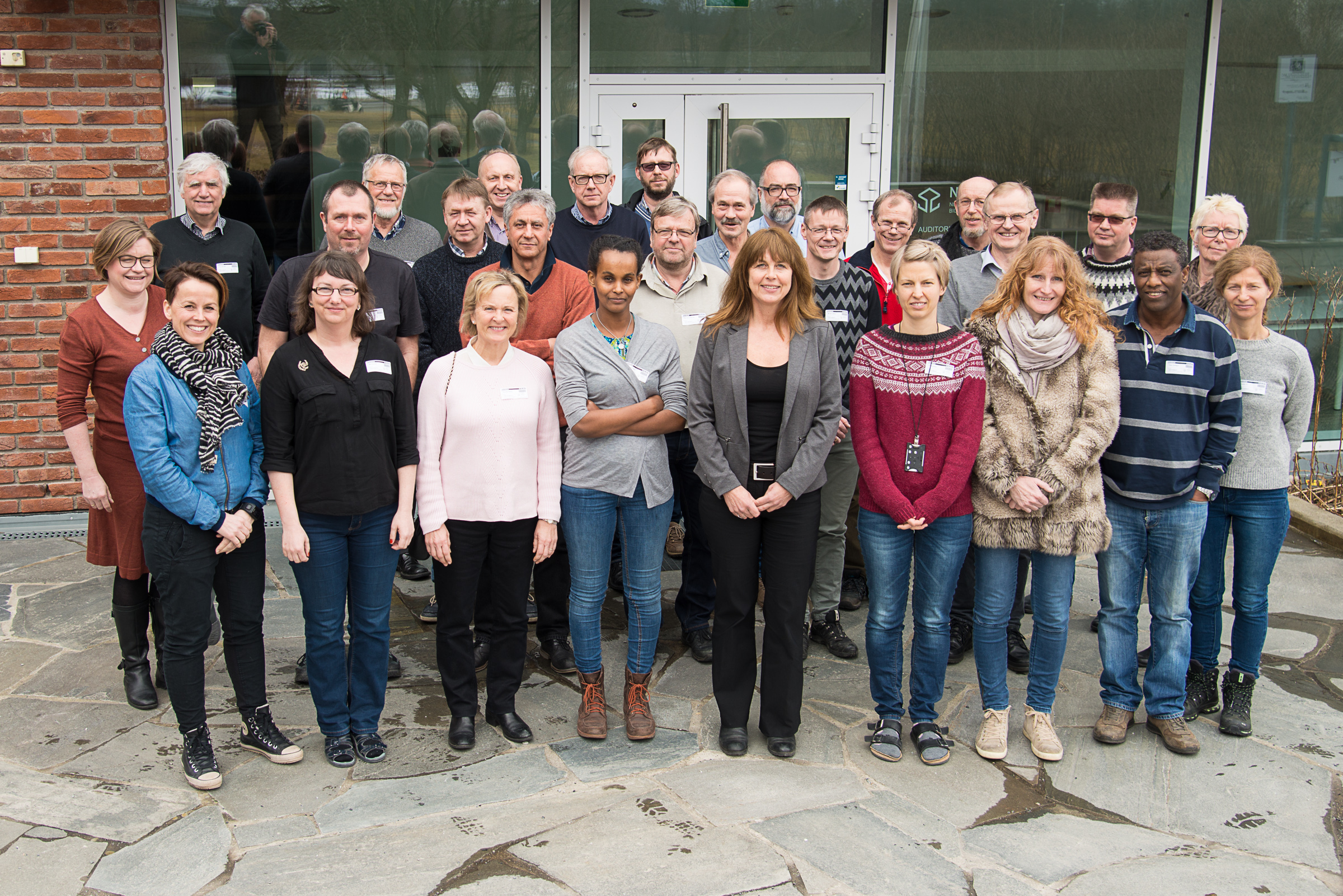 To all participants in the SafeOats project. 
The annual consortium meeting will be arranged in Ås the 20th of March 2018.
You can find more information about the program and sign up for the meeting here on this web site.
Best regards 
Ingerd 
Project:
Resistance to Fusarium langsethiae in Norwegian oats – SafeOats/TryggHavre
(2016-2020).
Over the recent decades, the Norwegian cereal industry has had major practical and financial challenges associated with the occurrence of Fusarium and mycotoxins in cereal grains. From 2011, payment reductions to farmers were implemented for oat grain lots with high levels of deoxynivalenol (DON). However, according to preliminary results by Norwegian Institute of Bioeconomy Research (NIBIO), the Norwegian University of Life Sciences (NMBU) and the Norwegian plant breeding company Graminor, certain oat varieties with generally medium or low DON contamination, may contain high levels of HT-2 and T-2-toxins (HT2+T2). These mycotoxins, formed by Fusarium langsethiae, are considerably more toxic than DON. Resistance to F. langsethiae is not included in the variety screening.
SafeOats will develop resistance screening methods in collaboration with the main Norwegian and Swedish breeding companies, thus facilitating the phase-out of susceptible germplasm. Furthermore, SafeOats will provide information whether there are varietal differences concerning the content of mycotoxins in different size fractions of oat grains, and whether seed borne inoculum might be a source of F. langsethiae infections. SafeOats will give new insight into the biology of F. langsethiae and HT2+T2 accumulation in oats, and thus facilitate the choice of relevant control measures. The results from SafeOats will benefit consumers nationally and internationally by providing tools to increase the share of high quality grain into the food and feed industry.
So far, the studies have shown that the ranking of oat varieties according to HT2+T2 content in non-included field trials resembles the ranking observed in inoculated field trials. Similar ranking of varieties has also been detected for oat seed lots. The ranking of oat varieties according to DON content is similar in non-inoculated and F. graminearum inoculated field trials. However, the ranking of oat varieties according to DON content does not resemble the ranking for HT2+T2. In oat grain samples tested so far, the levels of selected mycotoxins were reduced by approx. 50 % after removal of the small kernels. Results from germination analysis of infected seed samples does not indicate any damage from F. langsethiae to the germination capacity.
Registration
Information
Place
Ås, Høgskoleveien 7, Auditorium Sundheim
Time
Tuesday March 20th 2018 at 09:30 to 14:30
Deadline
Friday March 16th 2018 at 23:00
Activity is finished and you can no longer register.
Program
09:30

Registration and coffee at the reception, NIBIO, Høgskoleveien 7, Ås

09:40

Welcome

Ingerd Skow Hofgaard (project manager, NIBIO)

09:45

Update on cereal mycotoxin legislation

Simon Edwards, Harper Adams University, UK

10:00

Presentation of RT 1: Quantify Fusarium spp. and mycotoxins in selected Nordic oat varieties

Ingerd Skow Hofgaard

10:20

Coffee break

10:40

Presentation of RT 2: Investigate potential resistance to Fusarium langsethiae in selected oat varieties

Heidi Udnes Aamot (RT leader, NIBIO)

11:00

Presentation of RT 3: Establish a method for routine screening of resistance to F. langsethiae in oats in field

Morten Lillemo (RT leader, NMBU)

11:30 - 12:10

Lunsj i kantina / Lunsj served in the canteen

12:15

Presentation of RT 4: Quantify mycotoxins in different size fractions of grains and study seed infestation as a potential inoculum source of F. langsethiae

Guro Brodal (RT leader, NIBIO)

12:30

Identification of Fusarium resistance within UK oat breeding lines.

Joseph Crosby, Harper Adams University, UK

13:00 - 13:40

Summary and discussion.

13:45 - 14:30

Møte for styringsgruppa / Meeting for the projects steering committee

(Schøyen meeting room)
Contact person
Responsible for the project: Ingerd Skow Hofgaard
Mobile: +47 920 57 684
Questions? Please fill out the form below.